ACCLE – CALT 2018 Conference
The Association for Canadian Clinical Legal Education (ACCLE) and the Canadian Association of Law Teachers (CALT) are pleased to announce that our annual conferences for 2018 will be held jointly at the Faculty of Law, Queen's University (Kingston, Ontario), from Thursday 31 May to Saturday 2 June 2018. The theme of the joint conference is "The Whole Lawyer 2.0". For more information, see the English and French Call for Proposals for Participation.
ACCLE – CALT 2017 Conference
Registration for Educating the Whole Lawyer, our 2017 joint conference with CALT, is now open.  The conference will take place at the University of Victoria College of Law from June 8 – 10, 2017.  Visit our online registration page for more details about the conference as well as important information about travel and accommodation options.  The short and long program are both available.
ACCLE – IJCLE 2016 Conference
With over 220 attendees from more than 50 law faculties and organisations around the world, The Risks and Rewards of Clinical Legal Education Programs, our 2016 Joint Conference with the IJCLE, was our biggest and most successful conference to date.  For those who were not able to join us, you can get a flavour of the event by viewing this Spotify story of the conference.  Many of our presenters have generously made their presentation materials available to share.  On the last day of the conference, before saying goodbye to our guests and colleagues, we gathered everyone for this wonderful group photo in the Atrium of the beautiful new Jackman Law Building at the Faculty of Law.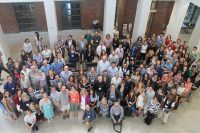 ACCLE 2016 Conference
We are delighted to finally be able to share the full program for our upcoming 2016 Joint Conference with the IJCLE. The Risks and Rewards of Clinical Legal Education Programs will take place July 10-12, 2016 in Toronto, Ontario.
2016 Conference Program at a Glance
Sunday, July 10th, 2016
10:30am-12:50pm
Registration
11:45am-12:50pm
Lunch
1-1:30pm
Welcome and Conference Opening
1:30-2:30pm
OPENING KEYNOTE ADDRESS:
 
Clinics in a Dangerous Time
 
Sarah Buhler, University of Saskatchewan College of Law, Canada
2:30-2:45pm
Break
2:45-4:15pm
Concurrent Paper Presentations
4:15-4:30pm
Refreshment Break
4:30-6pm
Concurrent Paper Presentations
6-8pm
Conference Barbeque (pre-registration required)
Monday, July 11th, 2016
8:30-9am
Breakfast
9-10:30am
Concurrent Paper Presentations
10:30-11am
Refreshment Break
11am-12:30pm
Concurrent Seminars
12:30-1:30pm
Lunch
1:30-3pm
KEYNOTE ADDRESS:
Resolving the irresolvable? A controversial approach to reconciling client service with student learning inside live-client clinics
 
Adrian Evans, Monash University, Australia
3-3:30pm
Refreshment Break
3:30-5pm
Concurrent Seminars
6:30-10pm
Conference Dinner at Hart House (pre-registration is required)
Tuesday, July 12th, 2016
8:30-9am
Breakfast
9-10:30am
Concurrent Paper Presentations
10:30-11am
Refreshment Break
11am-12:30pm
Concurrent Long Papers
12:30-1:30pm
Lunch
1:30-3pm
Concurrent Symposiums
3-5pm
Closing Reception
Wednesday, July 13th, 2016 – Optional Events
9am-6pm
Optional Day Excursion to Niagara Falls (pre-registration required)
9-11am
ACCLE Membership Breakfast (pre-registration required)